Childcare First Aid Galway
---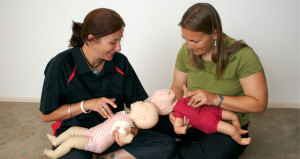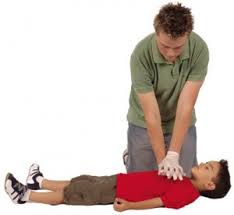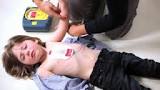 Childcare Basic First Aid Course Inc (Two Day)
 Pediatric CPR and Defibrillator  (Not PHECC Recognized)
 This course is for organised groups only – no public course available.   

                       

                                     

 

 

                          
Time:   9.30 to 4.30 daily
 Price: On Request.

TUSLA HAVE CHANGED THEIR POLICY AGAIN AND WILL ACCEPT THIS TRAINING UNTIL JAN 2020. AFTER THAT DATE YOU MUST HAVE A FAR (FIRST AID RESPONDER) ON SITE AT ALL TIMES, BUT THE PERSON THAT IS "BASIC" TRAINED CAN START TREATMENTS OR ASSIST THE FAR.
Our intensive weekend course would be ideal for those who do not wish to do a FAR course but would be available to assist the trained FAR until the arrival of the emergency services if required.
Who is this course for?
This extensive course is ideal for anyone who has either a professional or non-professional responsibility for Infants /Children. People who wish to achieve a higher standard of certification and First Aid knowledge, that a One day course cannot deliver.
Parents, Grandparents, Childminders, Nannies, Babysitters.
Pre – School or Primary Teachers, Classroom Assistants, Montessori.
General Aims:
This course is designed for those with little or no previous knowledge In First Aid.
It will empower the learner with the Basic Skills and knowledge to give immediate treatment to sick or injured Child before professional help arrives.
Method of Delivery:
This course will utilise both theory and practical learning which will encourage student participation and feedback and ensure strong knowledge of practical skills.
Instructors:
Course delivered by the principles of First Aid Training Service only.
No part time or unqualified instructors.
Duration:
Two Days: 9.30am to 4.30pm.
Assessment:
Small written multi choice questions assessment 50% pass.
Certification:
Certificate of competency, and Heartsaver AED Card from the Irish Heart Foundation. Valid for two years.
Principles of First Aid
Infant Cpr & Aed
Child Cpr & Aed
Choking
 Bleeding & Wounds
Shock
Bandaging Skills
Unconsciousness, Recovery Position
Head Injuries, Fainting.
Fractures
Burns
Poisons
Medical Emergencies
Asthma
Diabetes
Seizures