FAR – RECERT
Renewal of First Aid Responder Training including CFR (Cardiac First Responder)
YOU MUST PRODUCE AN FAR CERTIFICATE, THAT IS IN DATE, OR NOT OUT OF DATE BY MORE THAN 3 MONTHS, PRIOR TO TRAINING FOR THIS COURSE
(COVID 19 EXPIRY EXTENSION FINISHED ON JULY 31ST 2021) 
NEW COURSE VENUE:

   
MALDRON HOTEL, ORANMORE. H91 K7FA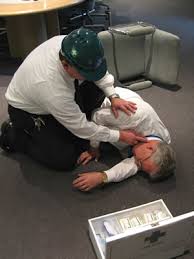 This is a 2 Day Course, usually running 1 Day per week for 2 weeks
This Training is classified as "Essential Mandatory Training that cannot be conducted remotely"
and therefore it can continue during all 5 Covid Levels
  * Funding may be available for eligible candidates from Dept Social Protection *
   * Funding may be available for eligible candidates from Skillnet Organisations *
 

2022 "Recertification Training" dates
VERY IMPORTANT: 
To recertify in FAR, your cert must be in date or not expired by more than ** 3 MONTHS **
                                                                            JAN :           18th and 25th (Tuesday and Tuesday) 
                                                                            JAN :           20th and 27th (Thursday and Thursday) 
                                                                            FEB :           10th and 17th (Thursday and Thursday) 1 place available
                                                                            FEB :           21st and 28th (Monday and Monday) 3 places available
                                                                            MAR :           04th and 11th (Friday and Friday) 7 places available
                                                                            MAR :           21st and 28th (Monday and Monday) 8 places available
* * DO NOT BOOK UNLESS YOU CAN ATTEND BOTH DAYS  * *
                                                                    Course Title: First Aid Responder Recertification (FAR)
                                                                    Course Duration:  Two Days (usually one day per week for two weeks)
                                                                    NEW Course Venue:  MALDRON HOTEL, ORANMORE. H91 K7FA
                                                                                                                     "Rinville Suite" 1st Floor  – Bar Food Available
                                                                    Course Fee:   €170.00 per trainee
                                                                    Course Times: 9.30 to 16.30 Daily

 COVID 19 PRECAUTIONS:
All training courses will have the following safeguards to minimise virus risk.
Temperature Checks using Non Contact Infra Red Technology
Large Venue, Small Groups with Social Distancing
Full set of Equipment per trainee
60 ml Hand Sanitiser for each trainee daily
PPE, with each trainee shown how to "donn" and "doff"
FAR Manual will have Covid 19 Information Section
Trainees will receive a Adult/Child CPR Pocket Mask for Post Training
NO WATER PROVIDED IN TRAINING ROOM
Who is this course for:
This course is designed to update the learner with the understanding, knowledge and practical skills required to provide and coordinate first aid in the workplace in compliance with the requirements of the Safety, Health and Welfare at Work Act 2007 and its accompanying Regulations and Guidelines. 

General Aims:

This course is designed to enable the learner to:
– Understand the responsibilities of the FAR place in the workplace.
– Provide treatment for the purpose of preserving life or minimising consequences of injuries until medical help arrives
– Provide treatment in the workplace for an injury which does not require medical attention.
– Be capable of coordinating first aid arrangements in the workplace.
– Be familiar with Health and Safety legislation on First Aid provision in the workplace.
Method of Delivery:

The course will utilise both theory and practical learning which will encourage student participation and feedback and ensure strong knowledge of practical skills.

Instructors:
Course delivered by the principles of First Aid Training Service only.
No part time – Trainees or unqualified instructors.

Certification:

Learners who successfully complete this course will receive a PHECC Certificate (Pre-Hospital Emergency Care Council) which is valid for 2 years.
Topics Covered:

The following is a overview of topics covered on this course, ADULT & PAEDIATRIC SKILLS:
Principles of First Aid
Getting Help
Primary Survey
Secondary Survey
Bleeding
Shock
Anaphylaxis
Fractures
Spinal Injury
Soft Tissue Damage
CFR – Cardiac First Responder (Community) CPR and AED
Choking
Unconsciousness
Concussion
Compression
Fainting
Diabetes
Asthma
Seizures
Stroke

Our instructors are mobile and can travel to deliver a course to groups on site at any location nationwide.