BASIC FIRST AID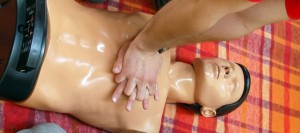 BASIC FIRST AID
         This course is for organised groups only
We can provide a Venue in Galway City at additional expense.
Certificate of Completion.
Not suitable for HSA or Tusla 
                                                                          Course Title:  Basic First Aid
                                                                          Course Duration:  One Day  09.30 to 16.30
                                                                          Course Certification:  Completion
                                                                          Course Fee:   €600 for up to 12 Trainees
Basic Training covers the following but can be tailored to your needs, but AED cannot be taught on this course.
Principles of First Aid
Getting Help
Bleeding
Shock
Cardio Vascular Conditions
Adult CPR
Choking
Fractures
Soft Tissue Injuries
Common Medical Emergencies
Unconsciousness